The 34th CSUN Assistive Technology Conference has come and gone (held March 11-15, 2019). It was another terrific event, and with approximately 5000 attendees! The big difference in this year's event was the new location—the lovely Anaheim Marriott hotel outside of Los Angeles, California. The official Twitter hashtag is #CSUNATC19. Next year's event is planned for the same venue next March 9 to March 13, 2020.

Sandy Plotin (Managing Director, Center on Disabilities, CSUN) and Jennison Asuncion (Digital Accessibility Leader!) hosted the keynote event where Johanna Lucht, a Deaf Engineer at NASA, was honored. In addition, Sean Keegan, Director of California Community Colleges Accessibility Center, was announced this year's Strache Leadership Award recipient.
Below are a great list of session resources, a few announcements made, photos, and some fun tweets! Lastly, links to past CSUN events are listed.
Recommended Session Resources
For much more, check the Great big list of CSUNATC19 accessibility presentations (Google Sheet). Also see the TPG CSUN 2019 Round-up and the Deque Systems Presentation Slides.
Announcements
Please leave a comment with anything missed.
More Related Links
Photos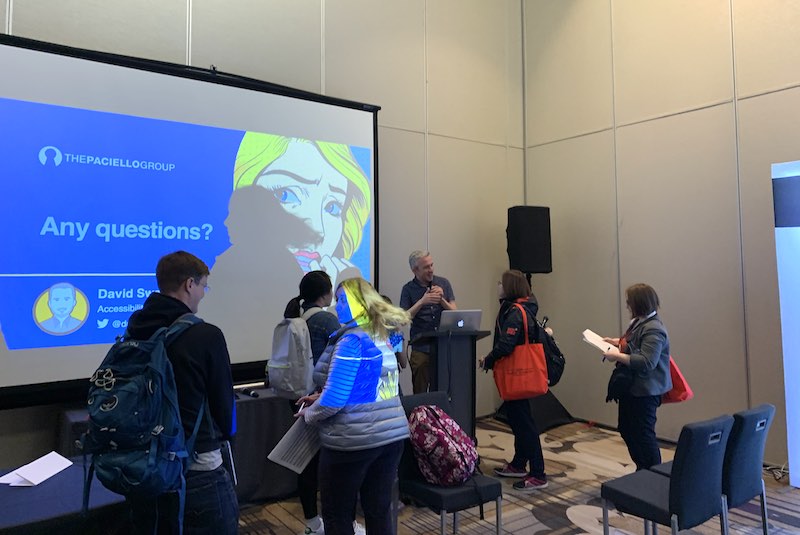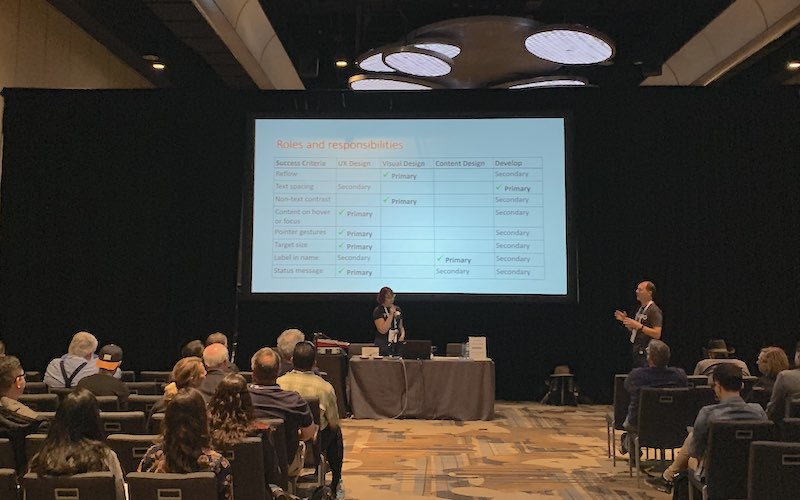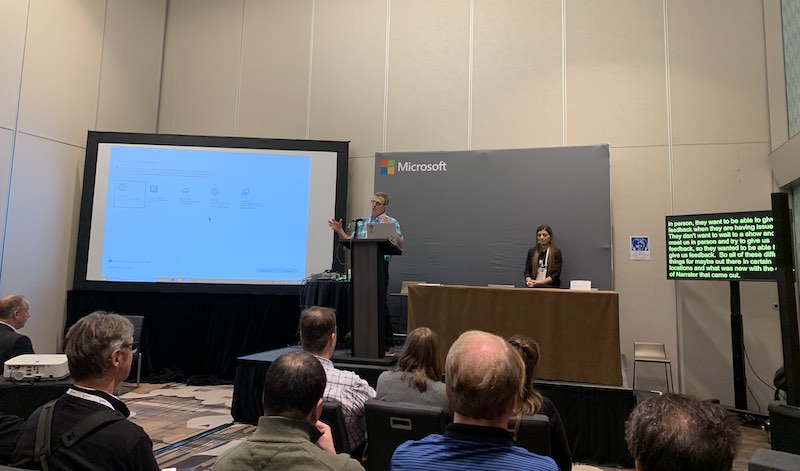 Fun Tweets
This may possibly be my favorite CSUN moment ever. @JamieKnight @shepazu pic.twitter.com/w2f6mJ8I2h

— Glenda Sims (@goodwitch) March 14, 2019
Loving this #CSUNATC19 swag! @dequesystems @CIA @amazon @accessibilityoz @aira ❤ pic.twitter.com/RE5gc5kNH7

— Cass Cooley (@casscoole) March 16, 2019
Alt @stevefaulkner and I being Steve and scott respectively. (I've been told I should comb my hair for pictures) pic.twitter.com/hleIrcDRfp

— Scott O'ld Bean (@scottohara) March 14, 2019
Accessibility conference swag is the best swag. Write more descriptive links, y'all. #readMore pic.twitter.com/YrboAb8K0L

— Marcy Sutton (@marcysutton) March 18, 2019
#CSUNATC19 @Intopia has a great #WCAG21 Map. Downloadable PDF: https://t.co/EAyqda4lPM pic.twitter.com/3HGGDSKhj3

— Bill Tyler (@billtyler) March 12, 2019
"I'm proud of our WAVE tool for not crashing on the 1 homepage analyzed that have over 26,000 accessibility errors…" @jared_w_smith #CSUNATC19 pic.twitter.com/4FbWi1rSsh

— Krista Greear (@kristagreear) March 14, 2019
Past reviews of CSUN ATC conferences