I'm deeply saddened to hear that Joseph O'Connor, tremendous accessibility advocate, recently died. His passing was announced on his personal website; please read Remembering Joseph O'Connor (1953 – 2020). Joseph was highly loved and respected in the accessibility community and will be sorely missed.
Joseph suffered from chronic illness and experienced serious pain especially over the last years of his life. One-and-a-half years ago, he wrote about a profound conference proposal Accessible Death in which planned his own inclusive funeral (the proposal was not accepted).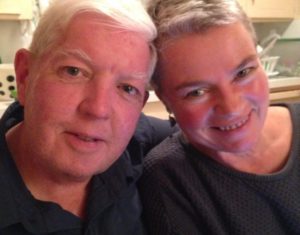 Joseph was a big contributor to the accessibility of WordPress and was a guest on Web Axe Podcast 100: Joe & Joseph on WordPress Accessibility (Sep. 2014). I presented with Joseph on Accessibility of Twitter at CSUN back in 2010 which was a terrific experience.
Below are some touching tweets about his passing. Rest in peace, my friend.
Addendum
Tweets about Joseph O'Connor
Just received word that my former colleague @AccessibleJoe passed away last Friday. https://t.co/laDH9vIFL4#a11y

— Sean G (@SupeRaven) January 7, 2020
Saddest news: Joseph O'Connor @accessibleJoe has passed away. A wise, joyful, abiding spirit of intelligence, compassion, and dedication, Joe helped make the disability advocacy community a profound presence in the world. He will be sorely missed. https://t.co/mWB6NwwUEf

— Knowbility (@knowbility) January 8, 2020
So sad to read that @AccessibleJoe died.
He was an inspiration and thriving force in the startup of the WordPress Accessibility team. A kind and gentle man with a great sense of humor.

Thinking of Linda, Siobhan and everyone that loved him. https://t.co/QZiBdWHOLM

Thanks Joe!

— Rian Rietveld (@RianRietveld) January 8, 2020
Oh I am so sad to learn just now of the death of Joseph O'Connor – @AccessibleJoe. Joseph was a friend, mentor, accessibility community leader, husband and, maybe most of all, loving dad / fierce advocate, of daughter Siobhan. Oh Joe. #a11y https://t.co/YqhH6aoa3n

— Lainey Feingold (@LFLegal) January 8, 2020
I had just spoken to him, right before Christmas. I was able to wish him a merry Christmas and a happy new year and tell him I loved him. Heartbroken.

— L. Legendary (@Accessible_Info) January 8, 2020
https://twitter.com/mak_en/status/1214732865335750656
Thank you for being a friend, @AccessibleJoe #WordPress #a11y https://t.co/ACAfrFU5Qb

— Joe Dolson (@joedolson) January 8, 2020
Shocked and saddened to hear about the passing of Joseph @AccessibleJoe O'Connor. A good man, a great father, and a true #a11y champion. RIP Joe, you will be missed.

— Billy Gregory (@thebillygregory) January 8, 2020
The #a11y community has lost a Giant. @AccessibleJoe has been a great friend to me & so many others. A selfless teacher, pioneer & innovator. His final years were filled w/ intense pain. At least he no longer has to suffer. RIP Joe. https://t.co/0bnrHY5bMF

— Joe Devon (@joedevon) January 8, 2020
Thinking about @AccessibleJoe and all he did for the community. Our talks were always enjoyable. I learned a lot from him. I will miss him deeply.
I take comfort in the fact he is no longer in pain.

— Steve Buell (@SteveFBuell) January 8, 2020
Adding my voice FWIW. @AccessibleJoe was incredible. There are a handful of reasons I attend some conferences. Opportunities to see amazing people like him are always first. Hugely influential, empathetic, kind, true class. His honesty facing mortality is inspiring. RIP.

— Rob Carr (@rgcarrjr) January 8, 2020