The third annual Accessibility Toronto Conference was held recently at TELUS in downtown Toronto, Ontario, Canada. On Twitter, the hash tag is #a11yTO and the account is @a11yTO.

And for the first time, both an Accessibility In Real Life conference (#a11yIRL) and a conference dedicated to accessible gaming (#a11yTOGaming). They were run the day before and after the main conference. All events were a big success!
The week even included a few social events in the evening including an entertaining karaoke party hosted by Shopify and a Tweetup hosted by Slack.
A theme which seemed to emerge from the conferences collectively was: Design *with* people with disabilities, not *for* people with disabilities.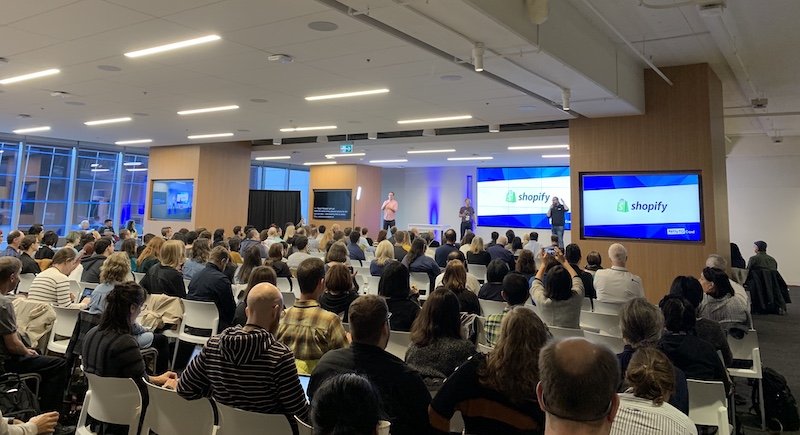 Other notables from the conference were the adjustable desk on stage and a video puppet which reminded attendees when the sessions are about to start!
See below for a list of available presentation resources (from the a11yTO conference), selected tweets, and a few excellent conference reviews. See you there next year?
Presentation Resources (partial)
Tweets
My "Can't let it go" for this week, an example in @ShellELittle's #a11yTOConf talk on dark patterns: some companies literally photoshop a hair onto images to get users to swipe thru carousels (by trying to swipe the hair off the screen). That level of manipulation is astounding.

— Cordelia (@cordeliadillon) October 27, 2019
CB Averitt – Never going out of style. Presenting on CSS and screen readers. #A11yToConf @dive4cb pic.twitter.com/jyqyZHxtFG

— Aidan Tierney (@AidanA11y) October 24, 2019
https://twitter.com/arigaud_ca/status/1187723968142348289
Far too often, #a11y auditors who clearly dislike something misapply WCAG 2 in order to fail it. –@patrick_h_lauke #a11yTOConf

Don't be that auditor. Audits are important. Advocacy is important. They are related, but never the two shall meet.

— Eric Wright (@ewaccess) October 24, 2019
Besides @a11yTOPuppet, another unexpected hit from #a11yTOWeek was a height-adjustable lectern/desk. Nice! #a11y https://t.co/8aRoNGBbbI

— Dennis Lembrée ⛄️ (@dennisl) October 27, 2019
Practical takeaway for scalable accessibility from @devonpersing: "aim for literacy, not expertise." #a11yTOConf

— Eric Wright (@ewaccess) October 25, 2019
@NeilMilliken presents an effective connection between sustainability and accessibility: Poor accessibility is a kind of pollution. And, sadly, society is paying the price, not the companies who are creating the "pollution". #a11yTOConf

— Susan Till (she/her) (@Susan_Till) October 25, 2019
https://twitter.com/ShellELittle/status/1187368065933234179
Other Reviews