Recently I attended Open Web Camp 6 (@OpenWebCamp) at the beautiful PayPal headquarters in sunny San Jose, California. Like every year, the event is coordinated by @JohnFoliot. If you want to review the Twitter feed, the hash tag is #OWC6.
Like last year, the cost of the event was only $10, and attendees get a nice lunch, a t-shirt, and some other swag. The networking was good and the energy was great!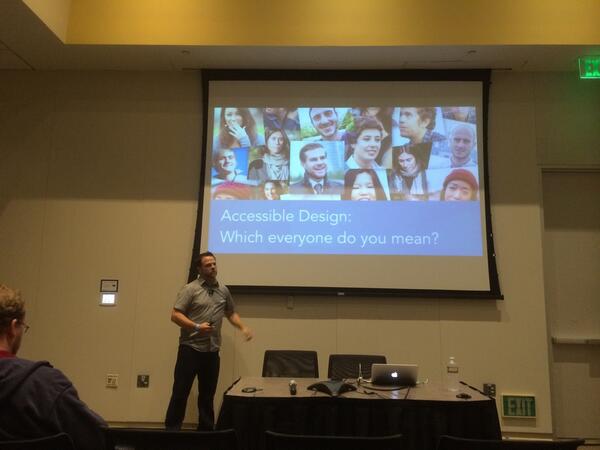 There was a variety of topics but accessibility was the most prominent. Here are the highlights:
Derek Featherstone (@feather) presented Accessible Design: Which "everyone" do you mean? where he discussed accessibility challenges for users of assistive technology such as voice recognition and screen magnifiers.
Dylan Wilbanks (@dylanw) presented a thought-provoking session Meditations on making fire-proof, failure-proof, future-proof things.
Dirk @Ginader presented Teach your Browser new tricks where he discusses longdesc and browser extensions.
@KarlGroves spoke about accessibility testing and his app Tenon.
The Twitter talk "Connecting to the pulse of the planet" was disappointing. It was much more of a 25-minute sales pitch than a tech talk.
All in all, it was another successful web event. Hoping for an OWC7!
Factoid: I've attended every OWC event since its inception at the first Open Web Camp at Stanford, and spoke about the then newly created @EasyChirp (then called Accessible Twitter).