It's been a while since we've added to our "Fixing Alt" series which provides alternative text missing from infographics. So I thought a recently published infographic, How much caffeine is actually in your coffee, would be perfect. The image tells how many milligrams are in a cup of coffee from a variety of brands/stores. The alternative text provided on the blog is the same as the title of the blog; the actual content in the image is missing; it's not accessible.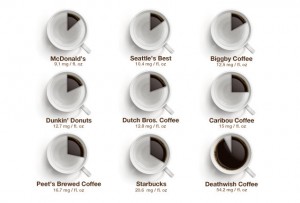 This is a fun topic but also important as we coffee drinkers, sighted or not, should be aware of the figures (assuming they're accurate). So below is the information in the image and what should be content on the original page or referenced with the longdesc attribute.
---
Caffeine infographic; 9 kinds of coffee, each with a coffee mug that displays an amount of coffee relative to the level of caffeine. Each amount below is in milligrams of caffeine per fluid ounce.
McDonald's: 9.1
Seattle's Best: 10.4
Biggby Coffee: 12.5
Dunkin' Donuts: 12.7
Dutch Bros. Coffee: 12.8
Caribou Coffee: 15
Peet's: 16.7
Starbucks: 20.6
Deathwish coffee: 54.2